About Stunt Dogs
We have been established for 25 years and can supply a complete service from pre-production planning and advice, risk assessment, sourcing animals where needed and training to specialist script requirements. Full insurance cover is provided.
All our dogs are trained and handled by ourselves and are rehearsed for each shoot by the Stuntdogs team of professional trainers.
We are all qualified animal trainers who also compete successfully in recognised Kennel Club Agility, Working Trials and Obedience competitions.
Although dogs are our specialist field, over the years we have been asked to train and supply most other domestic animals including cats, chickens, cows, pigs, goats, rats etc. Therefore we can offer farm and domestic animals all trained to the highest level.
Stunt Dogs sit and stay team at Crufts 2014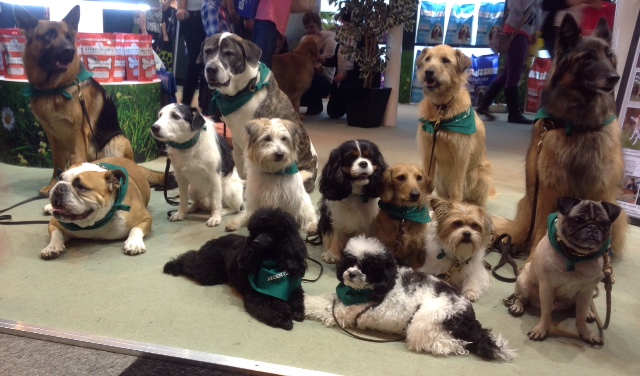 More of the Stunt Dogs team, on the set of a 118 ad.
With Paul O'Grady filming publicity For The Love Of Dogs  about Battersea Dogs Home
Hi Gill Cracker was a star and Sue was very lovely. Thanks so much Claire
just to let you know that all went really well with Doffen – he was very well behaved and very adorable! Lucy
Gill Just wanted to say a big thank you for allowing me to work with your wonderful dogs and colleagues on the above job. Once again a big thank you and I look forward to working with you and the gang in the future it means a great deal to me to work with dogs and lovely people.
Charlotte was brilliant, usual thing, a mad rush and last thing for the cat, but she nailed it, not the cat that is!!!